The Creativity Workshop with two curvaceous figure-drawing models and 60 executives from a multi-national conglomerate had just come to a close when the message hit my phone. Though it seemed like a stretch and huge hassle, I accepted a last minute invitation to appear on a Chinese docudrama two days later, rerouting my original flight bound for SFO to Beijing. The inordinate amount of trouble changing tickets, not to mention the hangover precipitated by the prior evening's soju fueled carousing in Korea meant that by the time I reached the single star smutty smelling room the TV station had booked me into, I was sure I'd made a colossal mistake and just wanted out. However, it was too late and besides, experience told me that some adventures that initially seemed sour had an uncanny tendency of turning into some of the sweetest ones. So throwing caution and complaints to the wind, I let go.
"Super Clinic", the 25 episode series being created for Hunan TV by my friend and director Steve Wang, identifies individuals with challenges and pairs them with doctors and donors who create a plan for their future positive physical and mental development. My episode centered on a 12 year old boy confined to a wheelchair since childhood. My role was to mentor and encourage him to believe he could rise from his chair and someday live a big life.
Upon meeting Ee Quinn, and although his leg was still encaged in a stainless steel cast with thin metal rods going through his leg, resetting the bones, I sensed his spirit was still strong. The yellowish fluid oozing from the holes where the rods punctured his skin was temporary. With the right medical support and equipment I truly believed he would someday walk. The biggest challenge ahead of me would be to communicate my intuitions and observations to an audience of a billion Chinese in their native tongue. My command of Mandarin was my disability, as the spotlights found me on center stage for my opening monologue.
Ee Chuin is a bright boy. He can rework a rubik's cube in less than 20 seconds. The world record stands at 5. Though his family is poor, his parents endeavored to raise him well in a country that is often not overly welcoming to the disabled. Though doctors are not sure, it is believed he contracted polio at the age of two months, just after receiving his second polio vaccination.
During the studio shoot, a number of questions were asked of a panel of six doctors aiming to formulate an affirmative plan of action for the boy. When quizzed by the host on how somebody with crutches and braces could possibly climb mountains with crutches and braces, I was left with little choice but to vault up onto the coffee table separating us, as I would climb over a fallen log. Then, admitting that I can dance too, she rose from her seat and we took a few twirls. Later, viewing a short video of Ee Chuin's school friends brought me to tears as I recalled what the road ahead for a 12 year old with a disability would demand.
Besides the TV interview in the studio, we traveled together to a swimming pool and visited the Yang Art Gallery where my paintings were exhibited in the famous 798 Art District, all in a bid to open Ee Chuin's mind to a life of possibilities. But it was over lunch that I truly realized how sheltered his life had been as he had never eaten in a western restaurant before and no wonder he did not know what tomato soup or spaghetti would taste like.
After just two days together, dropping Ee Chuin and his mother off at the hospital where they now stay for his treatment, we parted as if old friends. I felt that at the very least this program had encouraged a young boy with a disability, and perhaps a wider swatch of Chinese society, to reach for a big life. In addition, it was again confirmed that some experiences, starting out full of doubts, can end up full of hope.
Beijing Capital Airport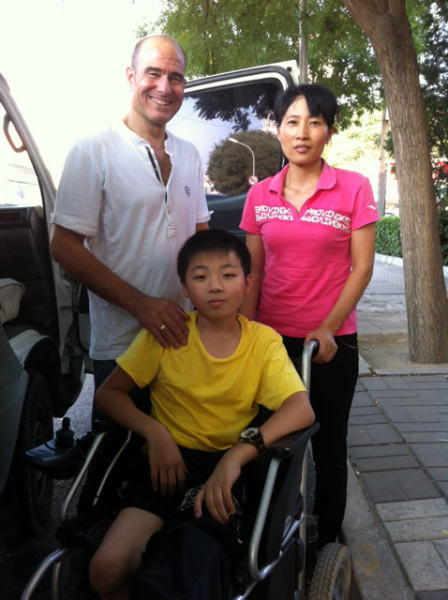 Text by Gregory Burns, Photographs by Angie Tan Burns, All Rights Reserved.